Advent tours of the chateau "Advent at the chateau and in the sub-chateau"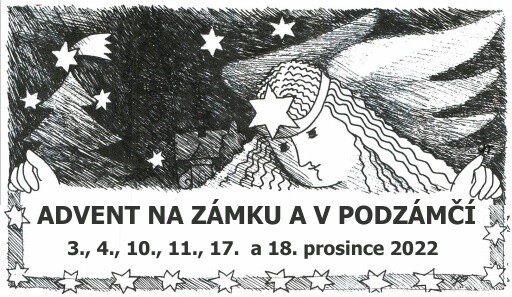 Only in Czech language!
Special tours of the chateau on the theme "Advent at the chateau and in the sub-chateau"
Do you want to experience the Advent time of yesteryear? Learn how the nobility of the chateau celebrated this time of the year? And how did the common people, the people in the chateau, experience this period? When and where did the Christmas tree come from, how children and adults enjoyed Advent. What was on the table on Christmas Eve? And who were St. Ambrose, St. Lucy, St. Barbara and the others?
You will learn all this and more when you visit the first floor of the castle exhibitions and part of the former castle kitchen of the Opočno castle with a commentary of the guide.
A nativity scene will be placed in the first courtyard in front of the entrance to the hunger room.

Tour dates:
weekends
3 and 4 December 2022
10 and 11 December 2022
17 and 18 December 2022
from 10:00 a.m. to 3:00 p.m. (the last tour enters the castle at 3:00 p.m.!)
On 3 December (only on this day) visit the "CHRISTMAS FAIR" in the 1st and 2nd courtyard of the castle.

Admission to the Advent tours of the castle: basic 150,- CZK, reduced 120,- CZK (seniors 65+, youth 18-24 years, disabled, disabled/P, children 6-17 years), children 0-5 years FREE
Admission to the fair: single 50,- CZK (children under 5 years FREE)
Tickets for the Advent tour can be purchased at the chateau ticket office, the fair at the 1st chateau gate.
We look forward to seeing you!